BIOS: The Band - Craig Miner - Ryan Shupe - Nate Smeding - Roger Archibald - Ryan Tilby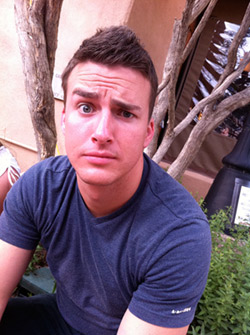 Nate Smeding plays the drums and has been known to randomly sing songs from the musical Wicked. He also free-style raps on occasion (but mostly in the grocery store).
When he was 8, he knew he was meant to play the drums and thought it would get him more chicks, so he built his own drum set out of old pots and pans and played them with chop sticks. When he was 10 years old, he got his first real drum set for $50 from his neighbor. Since then he hasn't stopped and has continued to perform with many groups leading up to his place in RS&RB.
He enjoys performing in RS&RB because it pushed him and keeps him on his toes. He loves to snowboard and skate. He enjoys a nice episode of Arthur now and then, In-N-Out Burger and loves to wear his spandex pajamas.