BIOS: The Band - Craig Miner - Ryan Shupe - Nate Smeding - Roger Archibald - Ryan Tilby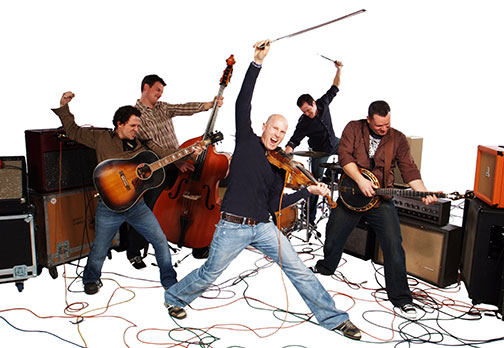 THE BAND
RubberBand is a perfect name for Ryan Shupe and his band of amazing musicians. Each member possesses years of experience on his respective instrument and when the band comes together their collective talent is explosive and undeniable
The five man band, hailing from the Salt Lake City, Utah, is a breath of fresh air in an age where much of the music is over-produced, "practically to death," and their organic approach to performing has built them quite a following, not only through the West but around the rest of the country as well. Lead singer Ryan Shupe originally formed the band as an outlet for his songwriting but it soon took on a life all its own, becoming bigger than anything he could have originally imagined
A descendent from a long line of fiddle players, (he's the fifth generation to play,) Shupe has been playing violin nearly as long as he could walk. His father assembled a group of young children, to play and tour professionally, and called them the PeeWee Pickers. This was when Ryan was still under the age of 10. He continued to play in bands all through school. In college, weary of starting bands only to have someone drop out, he ingeniously decided to form a loose outfit of musicians known as the RubberBand, where members could drop in and out at will and he would have a rotating group from which to pull when he needed them. However, one by one, the musicians began to stick and their cohesiveness fueled their musical fires until they became regional favorites. Most of the members had known each other from the area circuit before they joined Shupe in the RubberBand.
Banjoist Craig Miner first started playing music on a ukelele he bought at a garage sale, and from there added banjo, guitar, mandolin, and bouzouki. Performing with groups like Fire On The Mountain and Salt Licks, he had known Ryan for years before joining the RubberBand. Guitarist Roger Archibald has been playing guitar since he was 11, and actually played in a band that Ryan's dad organized, String Fever, when he was growing up. (Ryan's brother and sister also played in that band.) He worked as a regional musician in the same circles as Ryan for years before joining the band. Ryan Tilby also played in String Fever with Archibald before joining the RubberBand for the first time on banjo. After leaving the band, he attended Utah State University, where he studied jazz guitar. He obviously could not stay away for too long though, as he returned to the band in 2006 as the bassist. Drummer Nate Smeding knew he was meant to play the drums at the age of 8 when he assemble a homemade drum kit out of pots and pans and Used chop sticks as drum sticks. Later, he saw Ryan Shupe and his band of performers at a local concer. When the opportunity came knocking, he jumped at the chance to perform with the band.t 12 picked up the drums.
After building a solid regional following, the group elected to try their hand at a bigger dream. Their highly polished skills and string-based sound piqued the interest of quite a few record labels. Signing initially with Capitol Records, they made the well-received album, Dream Big, released in 2005 and produced by Jason Deere. That album produced the hit single "Dream Big" which was used as the theme song for NBC's prime-time show, "Three Wishes", hosted by Amy Grant. Since then they have released the albums "Last Man Standing", and "Brand New Shoes" and continue to tour and expand their fan base.
Ryan Shupe & the RubberBand has a crossover style that is fresh and unlike any other. Their self dubbed PostHeeHawFunkadelicHipHopNewgrass sound is a ""Fresh hybrid of new music influenced by bluegrass but featuring the percussive fervor of rock, rap and other styles . . . They bring imaginative arrangements and daring musicianship to their quintet sound."" - Bluegrass Unlimited
They put on a great show that is unique, creative, and entertaining. Playing a wide range of instruments and musical styles, the band appeals to youth and college aged crowds but also maintain a strong appeal to everyone - from the youngest to the oldest fans. Stellar Musicianship, Witty Lyrics, Funny Antics, Sing Alongs, and Introspective Ballads take the audience on an entertainment rollercoaster. With amazing and versatile musicians, Shupe's original songs are highlighted with hot instrumental solos and tight vocal harmonies. Thoughtful lyrics, rapid-fire vocals, dynamic musicianship and hard driving arrangements make the live show a sure-fire winner!
Ryan Shupe & the RubberBand use
Elixir Strings